Posts for: April, 2014
By Warren and Reese Family Dentistry
April 16, 2014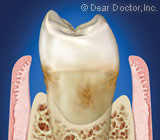 Periodontal gum disease is a relentless enemy to dental health that destroys gum tissue and the teeth's attachment to the jaw. As it ravages these tissues it often creates periodontal pockets, hidden spaces between the teeth and bone that fill with infectious bacteria capable of accelerating damage to teeth and gums.
The primary treatment goal for gum disease is to create an environment that is cleansable below the gum tissues, in order to remove as much bacterial plaque from the tooth, gum and root surfaces as possible. Periodontal pockets pose a challenge to this goal as they are extremely difficult to access using standard cleaning and root planing techniques the deeper they become. Cleaning and treating these deep pockets, however, is made easier with a procedure known as periodontal flap surgery.
This procedure is not a cure, but rather a way to access the interior of a periodontal pocket to remove infection and diseased tissue. In effect, we create an opening — like the hinged flap of a letter envelope — to gain entry into the affected pocket. Not only does this opening enable us to clean out infection within the pocket, but it can also facilitate cleaning the tooth's root surfaces.
It also provides an opening for us to insert grafting materials to regenerate lost bone and tissue. It's nearly impossible for this tissue regeneration to occur if bacterial infection and inflammation persist in the affected area. Periodontal flap surgery provides us the critical access we need to effectively remove these contaminants that stymie healthy growth.
This procedure is normally performed with local anesthesia and usually results in little bleeding and minimal post-operative effects. Once we have finished any procedures to clean the pocket and other affected tissues, or installed grafts for future bone and tissue growth, we would then seal the flap back against the tooth using sutures and gentle pressure to promote blood clotting around the edges. We might also install a moldable dressing that re-secures the edges of the flap to their proper position and prevents food debris from interfering with healing.
Periodontal flap surgery is the result of years of research to find the best techniques for treating gum disease. It's one of many weapons in our arsenal for winning the war against decay and gum disease, and helping you realize a healthier dental future.
If you would like more information on periodontal flap surgery, please contact us or schedule an appointment for a consultation. You can also learn more about this topic by reading the Dear Doctor magazine article "Periodontal Flap Surgery."
By Warren and Reese Family Dentistry
April 01, 2014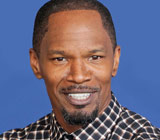 If you were a well-known actor, how far would you go to get inside the character you're playing in a movie? Plenty of stars have gained or lost weight to fit the role; some have tried to relate to their character by giving up creature comforts, going through boot camp, even trying out another occupation for a time. But when Jamie Foxx played a homeless musician in the 2009 film The Soloist, he went even further: He had part of his front tooth chipped out!
"My teeth are just so big and white — a homeless person would never have them," he told an interviewer. "I just wanted to come up with something to make the part unique. I had one [tooth] chipped out with a chisel."
Now, even if you're trying to be a successful actor, we're not suggesting you have your teeth chipped intentionally. However, if you have a tooth that has been chipped accidentally, we want you to know that we can repair it beautifully. One way to do that is with cosmetic bonding.
Bonding uses tooth-colored materials called "composite resins" (because they contain a mixture of plastic and glass) to replace missing tooth structure. The composite actually bonds, or becomes one, with the rest of the tooth.
Composite resins come in a variety of lifelike tooth shades, making it virtually impossible to distinguish the bonded tooth from its neighbors. Though bonding will not last as long as a dental veneer, it also does not require the involvement of a dental laboratory and, most often, can be done with minor reshaping of the tooth.
Cosmetic Bonding for Chipped Teeth
A chipped tooth can usually be bonded in a single visit to the dental office. First, the surface of the tooth may be beveled slightly with a drill, and then it is cleaned. Next, it is "etched" with an acidic gel that opens up tiny pores. After the etching gel is rinsed off, the liquid composite resin in a well-matched shade is painted on in a thin layer, filling these tiny pores to create a strong bond. A special curing light is used to harden this bonding material. Once the first layer is cured, another layer is painted on and cured. Layers can continue to be built up until the restoration has the necessary thickness. The bonding material is then shaped and polished. The whole procedure takes only about 30 minutes!
If you have questions about cosmetic bonding, please contact us or schedule an appointment for a consultation. You can also learn more by reading the Dear Doctor magazine articles "Repairing Chipped Teeth" and "Artistic Repair of Chipped Teeth With Composite Resin."