Posts for: December, 2020
By Warren and Reese Family Dentistry
December 21, 2020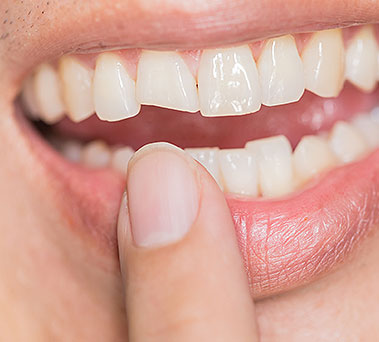 Chipped a tooth? Don't beat yourself up—this type of dental injury is quite common. In fact, you probably have a favorite celebrity who has chipped one or more of their teeth. The list is fairly long.
Some chipped a tooth away from the limelight, such as Tom Cruise (a hockey puck to the face as a teen), Jim Carrey (roughhousing on the playground) and Paul McCartney (a sudden stop with a moped). Others, though, chipped a tooth while "on the job." Taylor Swift, Hillary Duff and Jennifer Lopez have all chipped a tooth on stage with a microphone. And chipped teeth seem to be an occupational hazard among professional athletes like former NFL star, Jerry Rice.
Since smiles are an indispensable asset to high-profile celebrities, you can be sure these stars have had those chipped teeth restored. The good news is the same procedures they've undergone are readily available for anyone. The two most common restorations for chipped teeth are dental bonding and veneers.
The least invasive way to fix a chipped tooth is bonding with a material known as composite resin. With this technique, resin is first mixed to match the tooth color and then applied to the chipped area or applied in layers of color to get just the right look. After a bit of shaping, curing and adjustment, we're done—you can walk out with a restored tooth in one visit.
Bonding works well with slight to moderate chips, but it could be less durable when there is more extensive damage. For that, you may want to consider porcelain veneers. Veneers are thin wafers of dental porcelain that are bonded to the front of teeth to mask blemishes like stains, slight gaps or, yes, chips. Veneers can be so lifelike that you won't be able to tell the veneered tooth from your other teeth. They are fashioned to match the color and shape of an individual's teeth. Because of the time and design detail involved, veneers are more expensive than bonding, yet still within an affordable range for many.
Teeth require some alteration before applying traditional veneers because otherwise the teeth can appear bulky when the veneer is bonded to the existing tooth. To compensate, we remove a little of the tooth enamel. Because this loss is permanent, you'll need to wear veneers or have some other form of restoration for the tooth from then on. For many people, though, that's a small price to pay for a smile without chips.
Your first step to repairing a chipped tooth is to come in for an examination. From there, we'll recommend the best option for your situation. And regardless of which, bonding or veneers, we can change your smile for the better.
If you would like more information about restoring injured teeth, please contact us or schedule a consultation. To learn more, read the Dear Doctor magazine articles "Teeth Whitening" and "Porcelain Veneers: Strength and Beauty as Never Before."
By Warren and Reese Family Dentistry
December 11, 2020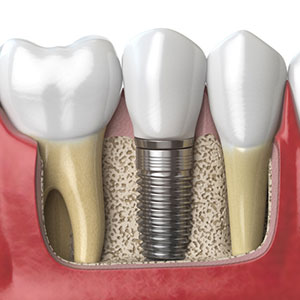 Getting a new implant tooth in only one day sounds too good to be true. But it's true—up to a point. Whether or not you can undergo an immediate crown replacement (attaching a crown to an implant right after surgery) will depend mostly on the underlying bone.
Traditionally, an implant crown isn't attached until several weeks after surgery to allow bone cells to grow and adhere to an implant's titanium surface (osseointegration). The gums are sutured back in place to protect the metal implant until it develops a durable hold within the bone. But this also leaves you with a noticeable missing tooth gap during the integration period.
A "tooth in a day" procedure gives you a full smile right after implant surgery. There is one catch, though—this first crown will be temporary and it won't be able to receive biting pressure.
Until the bone and implant fully integrate, attaching a full-sized permanent crown can damage the implant. To avoid this, the initial crown is slightly shorter than the future permanent crown. This prevents it from contacting solidly with teeth on the other jaw while biting or chewing, which can generate enough force to potentially damage the implant.
If you undergo an immediate-load crown on your implant, you'll have to return later for the full-length permanent crown. In the meantime, though, you'll avoid the embarrassment of a missing tooth in your smile.
With that said, the target bone must be healthy and intact for you to undergo a "tooth in a day" procedure. That isn't always the case with missing teeth—over time, bone volume can gradually diminish. The subsequent loss can complicate implant placement, which must be exact to achieve the most natural outcome. If extensive bone loss exists, you may need grafting to build up enough bone to adequately support an implant.
Even if an implant can be placed, the bone may still be too weak to allow for immediate crown placement. In that case, the traditional procedure may be the best course to allow the bone and implant to fully bond.
To determine if you're a candidate for a "tooth in a day" implant procedure, you'll first need to have a thorough dental exam that includes an assessment of bone health. If it's sound, you may be able to have a full smile right after implant surgery.
If you would like more information on dental implant restorations, please contact us or schedule an appointment for a consultation. You can also learn more about this topic by reading the Dear Doctor magazine article "Same-Day Tooth Replacement With Dental Implants."