Posts for: February, 2021
By Warren and Reese Family Dentistry
February 19, 2021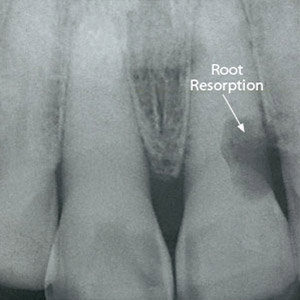 Most dental problems are caused by tooth decay or periodontal (gum) disease, easily preventable with dedicated daily hygiene and regular dental care.  But there are a few other rare conditions to be on alert for that could pose just as serious a threat to your dental health.
One of these is a phenomenon called root resorption. Put simply, certain cells arise within a tooth root that eat away and dissolve (resorb) tooth structure. Left unchecked, it could eventually lead to the tooth's demise.
Although its exact cause remains elusive, we suspect root resorption is associated with trauma to the gum ligaments earlier in life, perhaps from an injury or too much force applied during orthodontics. Other possible contributing factors include teeth-grinding habits or internal tooth bleaching procedures.
Root resorption in adults isn't that common, so your chances of experiencing it are low. But it is still possible, so you should be on the lookout for potential signs: Early on, it may appear as faint pink spots on teeth where the enamel has filled with the destructive cells eating away at the tooth. In time, these spots can increase to form cavities.
More than likely, though, your dentist may detect the problem during a dental exam. That's why regular dental cleanings and checkups are essential—a routine exam is a prime opportunity to uncover conditions like root resorption that silently undermine your teeth.
If found early, we can often treat root resorption effectively. We can often expose a small affected area with minor gum surgery, remove the harmful cells and fill any cavities with a tooth-colored filling. In some cases, we may recommend orthodontics beforehand to encourage a buildup of bone around the root by moving the affected tooth outward from the jawbone. If the resorption has affected the tooth pulp, you may also need a root canal treatment.
There is also the possibility with advanced resorption that the best course of action is to remove the tooth and replace it with a dental implant. So, keep up your regular dental visits—early detection and intervention can stop this destructive dental condition from destroying your tooth.
If you would like more information on root resorption, please contact us or schedule an appointment for a consultation. You can also learn more about this topic by reading the Dear Doctor magazine article "Root Resorption: An Unusual Phenomenon."
By Warren and Reese Family Dentistry
February 09, 2021

If you're into social media, you might have run across the idea that there's nothing to straightening your teeth. According to some SM influencers, you can even do it yourself with a few rubber bands. But the truth is, the mechanics of moving teeth are much more complex—and taking orthodontics into your own hands can cause extensive dental damage.
In reality, all bite problems (malocclusions) require the advanced knowledge and expertise of an orthodontist to correct them safely and effectively. Some, in fact, may require other devices along with braces or clear aligners to achieve the desired outcome for a particular malocclusion.
Here are a few of those additional tools an orthodontist may use and why they may be needed.
Headgear. Some malocclusions result not just from misaligned teeth, but problems with jaw or facial structure development. To accommodate additional factors like this, an orthodontist may include headgear during treatment, usually a strap running around the back of a patient's head or neck and attached in the front to brackets bonded to the teeth (usually the molars). Wearing this headgear for several hours a day can improve jaw and facial development.
Elastics. Unlike basic rubber bands DIYers might use to move their teeth (often with damaging results), elastics are specialized bands designed for targeted tooth movement. They're needed for bite problems that require moving some teeth and not moving others. As such, elastics can be applied in conjunction with braces to perform either intended task—move or prevent movement for specific teeth.
Anchorage. One of the tools often used with elastics for targeted tooth movement are temporary anchorage devices (TADs). These are typically tiny screws imbedded into the jawbone a short distance from fixed braces. An elastic band connected to the braces at a specific point is then attached to the TAD, which serves as an anchor point for the elastic.
These and other devices can help orthodontists achieve a successful correction for certain individual bite problems. And unlike the DIY methods touted on the Internet, these additional tools help them do it safely.
If you would like more information on straightening teeth through orthodontics, please contact us or schedule an appointment for a consultation. You can also learn more about this topic by reading the Dear Doctor magazine article "Orthodontic Headgear & Other Anchorage Appliances."